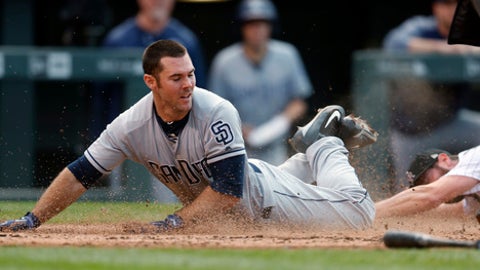 With one out in the bottom of the fifth, the Rockies-Padres game went into a rain delay in what likely ended up influencing the outcome of the game. At this point, the Rockies were up 3-0 and Jon Gray was cruising, allowing only two hits over five innings while striking out seven. His pitch count was excellent at only 63 and the Rockies offense, while not exploding, was in control of Jhoulys Chacin and the game.
Then the rain happened and all momentum was killed. Chris Rusin came on to replace Gray after the rain delay gave up a home run to Yangervis Solarte to give the Padres their first run. It was a questionable spot to put him in as Rusin is more valuable than a sixth inning arm when the Rockies are up three.
Some more questionable bullpen moves came in the eighth when Bud Black seemed to overthink his moves. Pat Neshek came on and got two outs before allowing a single. Black then went to McGee which may have been a good move except for the fact that he allowed a double to Solarte. Black made yet another move and brought on Oberg, who before this game had been really good recently. Oberg walked Wil Myers before allowing the game tying hit Hector Sanchez, a two-run single.
Greg Holland came on for the ninth inning, as is expected when the game is tied in the ninth. Holland ran into troubles though and ended up allowing the game winning run on a squeeze bunt. He came close to fielding the ball and tagging out the runner, however the ball came out of his glove and the Rockies were down 4-3.
The best bullpen arm for the Padres came on in the ninth in Brad Hand and he quickly ended the game. The series, while not the best possible outcome, was not terrible and the Rockies now have an off day before heading out to San Francisco for a series against the division worst Giants.