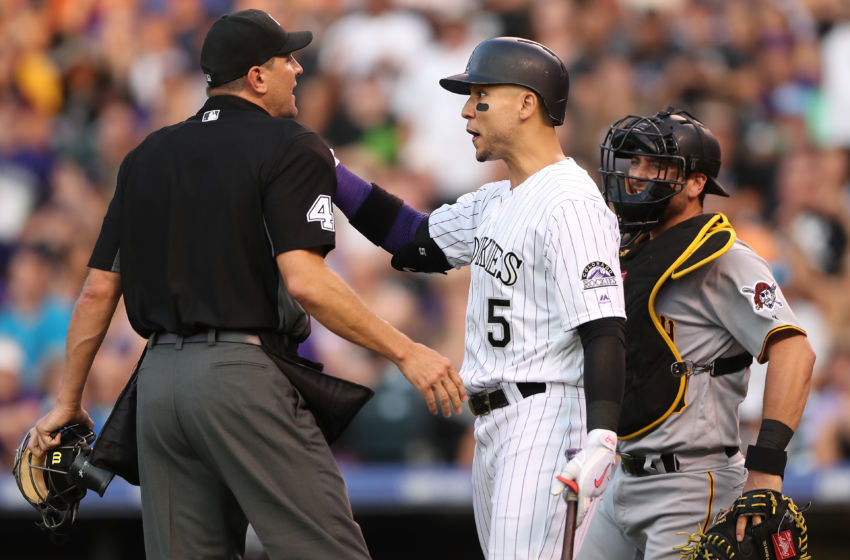 After a huge loss on Friday night, the Rockies had a nice bounce back game on Saturday with a nice 7-3 win. Some clutch two-out hits and a really great outing by German Marquez fueled the win. The Rockies now have a chance to win the series on Sunday with Kyle Freeland on the mound, and his last start was nearly history.
Pittsburg did get on the board first and the game looked as though it would end up similar to Friday's game, but he kept his cool and turned in a really good start. With two walks and a double, the Pirates had a 1-0 lead and they had a good opportunity again in the third. With Starling Marte reaching base with a leadoff single, the Rockies were playing with fire. Marte managed to steal second, but he was quickly erased on a line out double play.
In the bottom of the third, the Rockies got their first three runs. A one-out single and double put runners at second and third for LeMahieu who was able to hit a sac fly. Nolan Arenado and Mark Reynolds then had a couple two-out hits to score two more runners to take a 3-1 lead. The Rockies would only need one more run to win the game, but they got a few more as the game would go on.
Trevor Story, LeMahieu, and Desmond all had RBI singles as the game would go on and Alexi Amarista doubled in a run in his only at-bat. With Marquez going seven innings in the game, the bullpen did not need to cover that many innings and Bud Black even opted to use his closer in the eighth inning for a four out save. With two runs getting scored in the eighth, Holland probably could've been removed for someone else, but Black left him in and he gave up one run, but still earned the save and finished the game.
There was some drama in the game when the benches cleared after an inside pitch to Cargo, but it is unlikely there is any continuation of this in the finale of the series. This is similar to some drama that came in the first series of the year between these teams, but it was just some typical drama that Pittsburg always seems to be involved in.